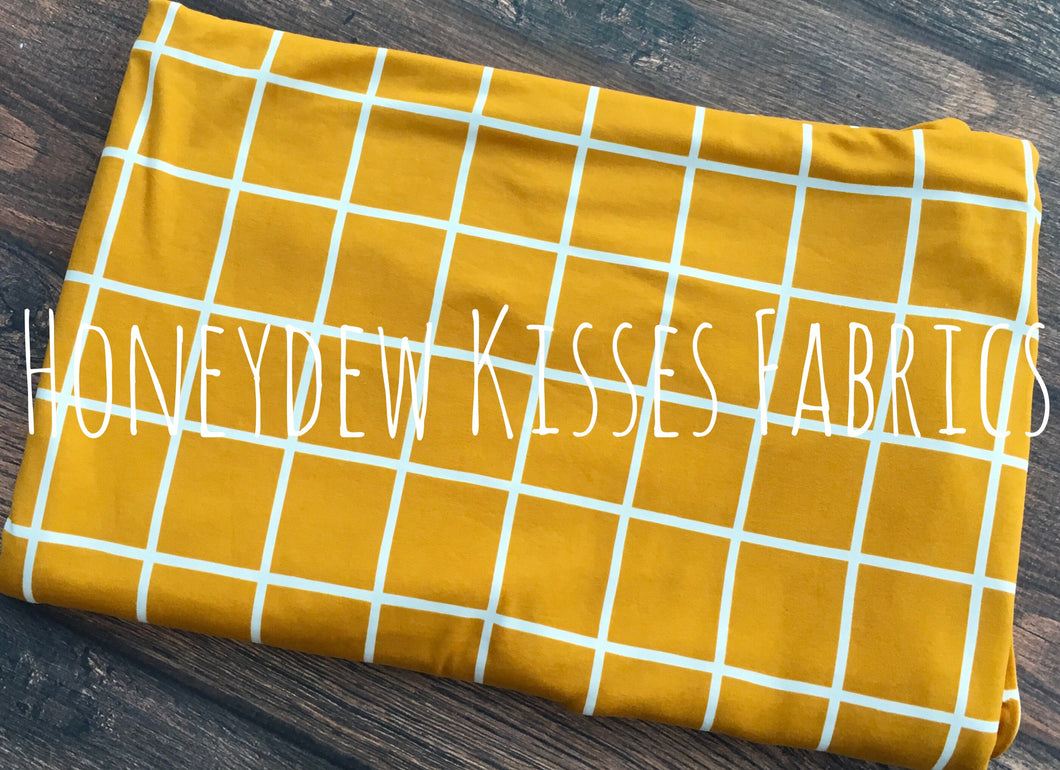 Mustard Window Pane Brushed Poly Spandex Knit Fabric
Regular price $6.99 $6.99 Sale
Super soft, stretchy and drapey, this fabric is great for tops, dresses, leggings, etc.
***FABRIC CONTENT & SIZE***
DBP/Brushed DTY: 96% Poly 4% Spandex

55" wide (should be closer to 60", anything over 55" is considered a bonus!)
Sold in 1 yard increments.
***SHIPPING***
Preorder turnaround time is 2-3 weeks, but please note that sometimes there may be issues beyond my control that affect the delivery time. I will keep updates of any major delays or problems current in my Facebook Group: Honeydew Kisses Custom Fabrics
**Please see Shipping Information for the most up to date information on shipping policies and pricing!**

1-3 yards - USPS Priority PFRE 
4-7 yards - USPS Priority MFRB 
8-12 yards - Large Flat Rate Box (LFRB) 
***FLAWS/SHORTAGE***

While I will do my best to inspect the fabric before I package it up, I am human and may overlook things. When you receive your fabric, BEFORE YOU WASH, please make sure there are no major flaws! If you find a flaw that is further than 5" from the selvedge and larger than 1" in size, please notify me immediately. If you notify me within 7 days of delivery, I will refund or exchange your item (based on current stock). I will not be able to accept returns on washed fabric.
The same policy stands for shortages over 2".
***REFUNDS/RETURNS***
No returns or refunds unless the fabric sent is incorrect, or is flawed or cut short as described in the previous section, and when reported within 7 days of delivery.